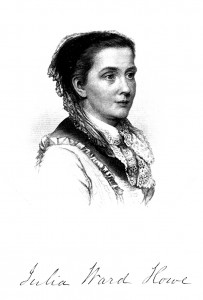 Julia Ward Howe was an American writer, abolitionist, and social activist in the 1800s, born to Samuel Ward and his wife Julia Rush Cutler on May 27, 1819. After the death of his wife, Samuel Ward became extremely religious and raised Julia Ward Howe in a strict Calvinist household. Her brother, Samuel Cutler Ward, was able to go to college and began expanding his own world view. He shared his experiences and discoveries of artists and works with his sister while she was growing up, especially those he found during his European travels. He brought home a library when he returned from Europe, and Julia Ward Howe had free access to it. When Julia Ward Howe married Samuel Howe, they took a trip to Europe where she was able to meet many literary celebrities herself. She attended dinners and lectures which revolved around literary discussion. She was now not only experiencing the wider world through her brother and his library, but was becoming intimate with its views herself and using those views in her writing. The work she is best known for is "The Battle Hymn of the Republic."
In 1868, Howe founded the New England Women's Club and the New England Woman Suffrage Association, where she served as president for twenty-six of the following forty-two years. She also served as the president of the Massachusetts Woman Suffrage Association for a total of ten years. In 1870, Howe founded the Woman's Journal, a magazine focused on women's rights, where she was an editor and writer for twenty years. She continued her activism and dedication to the arts throughout her life until she died of pneumonia on October 17, 1910.
More about her life can be learned from her autobiography, Reminiscences, and from a posthumous biography by her children, Julia Ward Howe, 1819-1910. Another reference source about Howe's life and writings is juliawardhowe.org.