[August 5 Update: See bottom of this post for more from Dave as of the evening of August 5 — and new photos]
I was checking out my garden [on Sunday, August 3] amidst overcast skies and threatening skies, when a medium-sized Nymphalid landed on the tallest of my Mexican sunflowers. This Tithonia must be 9 feet tall or so. At first I thought aberrant buckeye. Then my thought process went to tortoiseshell. After scrambling to get my bins and camera, I realized that this was not a North American species at all. I knew I had seen it in book somewhere but could not remember what it was. I finally figured it out: European peacock, Inachis io. I had to climb a ladder to try for images since it almost always chose the tallest flowers. Not too steady on a ladder in damp soil with a macro lens and sore knees!
My thinking is that it likely came in on a container ship from Europe, Asia, or Japan. As the crow flies, I am only about five miles from the Port of Philadelphia — where huge numbers of containers come and go on ships. The butterfly is in too good condition to have flown here.
The host species is stinging nettle, so I would think that butterfly houses would shy away from this one, and I have visited at least six commercial butterfly houses and have never encountered this species. They do seem to be a popular attraction in European butterfly houses, however.
In the end I can only speculate about its origin and means of getting here.
It was here still when I arrived home from work tonight [August 4]. It is roosting on the wooden overhead structure of my deck. It is well protected by vines, twigs, and leaves.
The moral of the story: you never know what you will find next!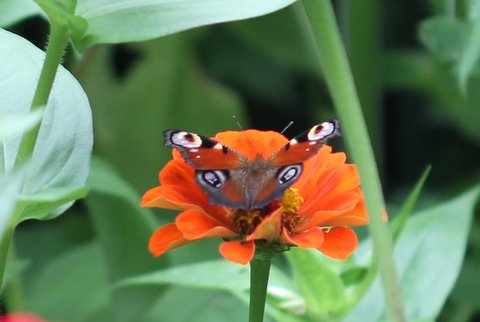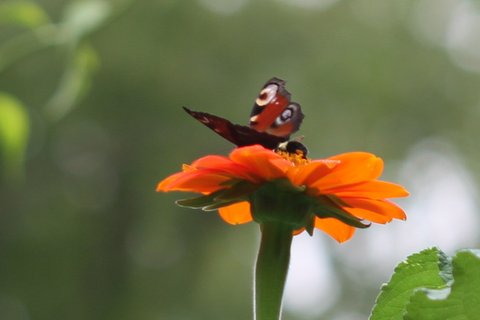 Dave's Update as of August 5:
I went in to work late today in order to observe and snap some more images of the peacock. It moved from its night time roost around 8:45 a.m. Zabs, silver-spots, tigers, and a broad-wing all were actively flying before the peacock took flight. Once it became active, it nectared on Tithonia, Zinnia, Lantana, Joe-Pye weed, and silver lace vine. It briefly checked out a marigold and some tropical milkweed but showed no interest in nectaring on them. I observed it from 7:30 a.m roosting till 10:20 a.m.
When I came home from work it could not be found. Chris Herz stopped by after work but unfortunately was unable to see it. Was hoping that someone else would get to see such a beauty.