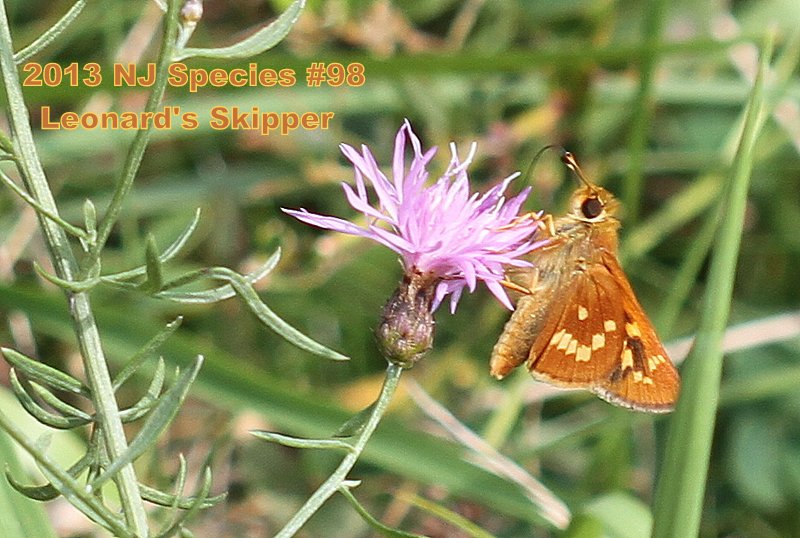 Dave A's computer is up and running again, and so he is now able to send along these photos (his camera never paused) and his breakdown of the amazing Butterfly Big Year he recorded in 2013.
After a careful re-count I discovered that I have actually observed 102 species in the state this year. I was able to photograph all but one. Somehow I forgot to photograph Appalachian Brown, even though I observed this species in at least two NJ locations.
Species Recorded in NJ in 2013:
Pipevine Swallowtail
Black Swallowtail
Giant Swallowtail
Eastern Tiger Swallowtail
Spicebush Swallowtail
Checkered White
Cabbage White
Falcate Orangetip
Clouded Sulphur
Orange Sulphur
Cloudless Sulphur
Little Yellow
Sleepy Orange
Harvester
American Copper
Bronze Copper
Bog Copper
Coral Hairstreak
Edward's Skipper
Banded Hairstreak
Striped Hairstreak
Oak Hairstreak
Brown Elfin
Hoary Elfin
Frosted Elfin
Henry's Elfin
Eastern Pine Elfin
Juniper Hairstreak
Hessel's Hairstreak
White M Hairstreak
Gray Hairstreak
Red-Banded Hairstreak
Eastern Tailed-Blue
Blueberry Azure
Holly Azure
Summer Azure
American Snout
Variegated Fritillary
Great Spangled Fritillary
Meadow Fritillary
Pearl Crescent
Baltimore Checkerspot
Question Mark
Eastern Comma
Gray Comma
Mourning Cloak
American Lady
Painted Lady
Red Admiral
Common Buckeye
Red-Spotted Purple
Viceroy
Hackberry Emperor
Tawny Emperor
Northern Pearly-Eye
Eyed Brown
Appalachian Brown
Georgia Satyr
Little Wood-Satyr
Common Ringlet
Common Wood-Nymph
Monarch
Silver-Spotted Skipper
Hoary Edge
Southern Cloudywing
Northern Cloudywing
Hayhurst's Scallopwing
Dreamy Duskywing
Sleepy Duskywing
Juvenal's Duskywing
Horace's Duskywing
Wild Indigo Duskywing
Common Checkered-Skipper
Common Sootywing
Swarthy Skipper
Clouded Skipper
Least Skipper
European Skipper
Fiery Skipper
Leonard's Skipper
Cobweb Skipper
Dotted Skipper
Indian Skipper
Peck's Skipper
Tawny-Edged Skipper
Crossline Skipper
Northern Broken-Dash
Little Glassywing
Sachem
Delaware Skipper
Rare Skipper
Mulberry Wing
Hobomok Skipper
Zabulon Skipper
Aaron's Skipper
Broad-Winged Skipper
Dion Skipper
Black Dash
Dun Skipper
Dusted Skipper
Salt Marsh Skipper
Ocola Skipper
Sought after in NJ but missed:
Hickory Hairstreak
Northern Metalmark
Silver-Bordered Fritillary
Compton Tortoiseshell
Long-Tailed Skipper
Long Dash
Two-Spotted Skipper
Common Roadside-Skipper
Brazilian Skipper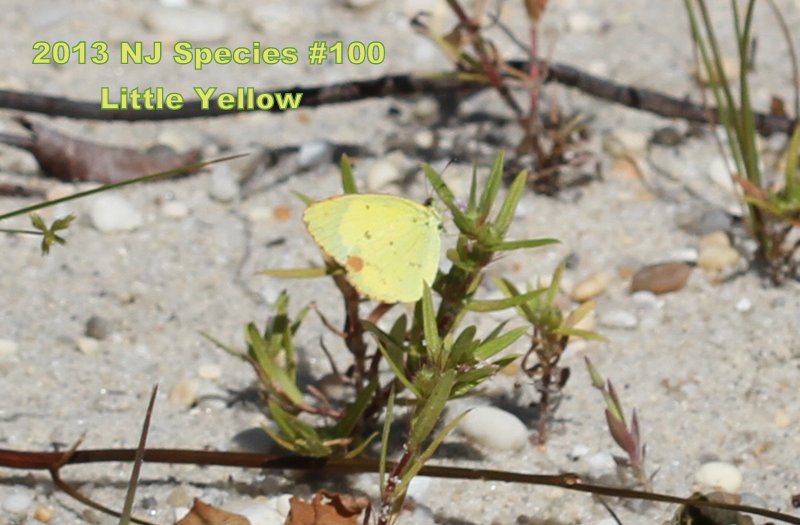 Solo observations only
I found only one individual of these six species in NJ this year:
Little Yellow
Edward's Hairstreak
Georgia Satyr
Meadow Fritillary
Leonard's Skipper
Dion Skipper
In our log's area
I observed 90 species in our southern eight counties.
Dave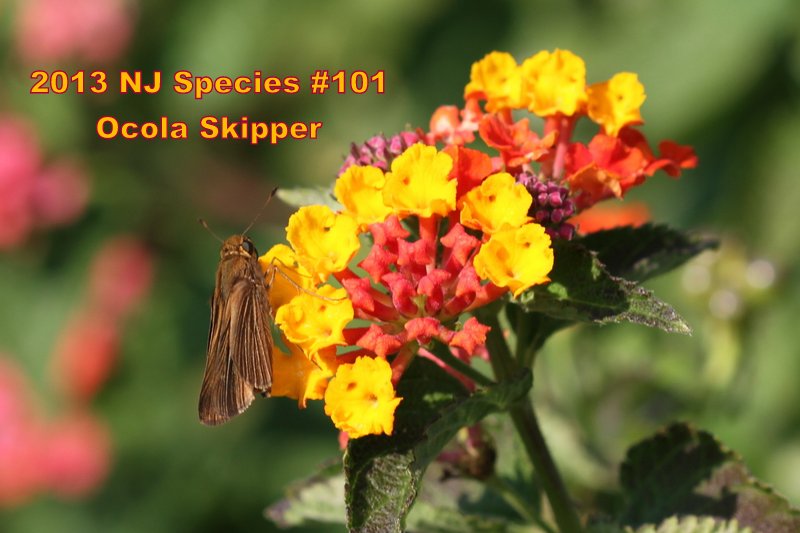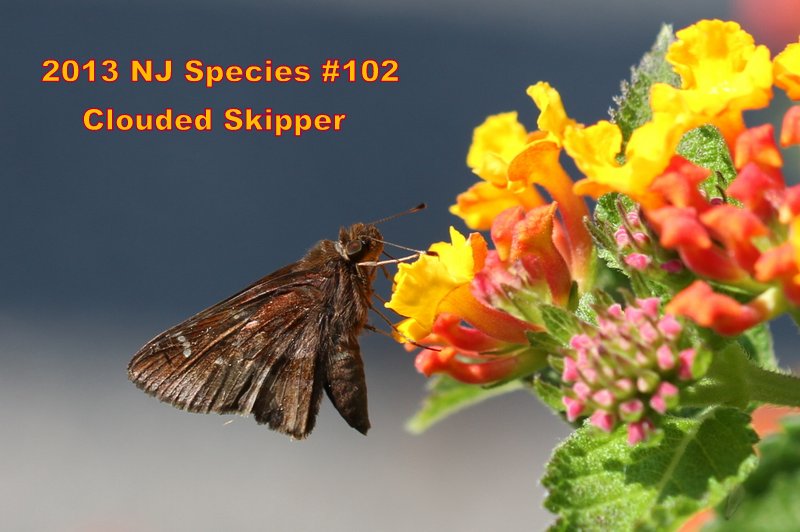 .