The South Jersey Culture & History Center at Stockton is proud to announce the second issue of SoJourn, a journal devoted to the history, culture, and geography of South Jersey.
Stockton students edited and designed the text; local historians contributed the content.
Copies are available at the Stockton Campus Center Bookstore, Second Time Books in Mt. Laurel, the AtlantiCare Regional Medical Center gift shop, and Amazon (or by contacting me, Tom Kinsella).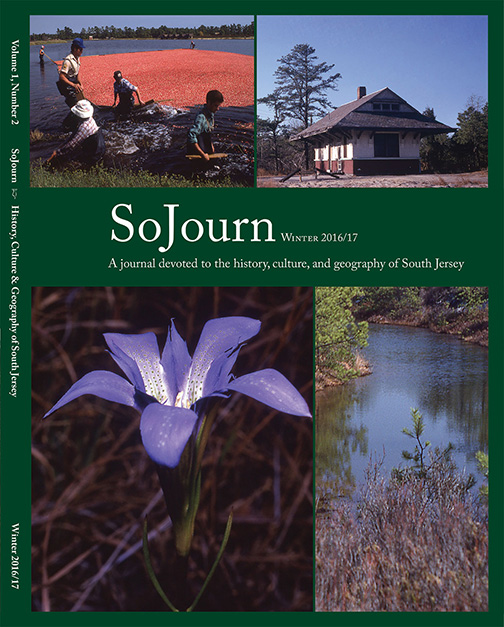 Contents of this issue:
"Kate Aylesford: Modernity and Place in New Jersey's Pine Barrens" by Matthew G. Hatvany
A reconsideration of one of the first historical romances based upon events in South Jersey, describing the Battle of Chestnut Neck and Revolutionary era Batsto and Sweetwater.
"Alfred and Muriel: The Story of the J. A. Sweeton House in Cherry Hill, New Jersey" by Brian Stolz as told by Jim Stanton
How South Jersey came to have its one and only Frank Lloyd Wright designed house.
"School Segregation in the Post-Civil War Era: Burlington County, New Jersey, 1865 – 1915" by Zachary T. Baer
Before Brown v. Board of Education and before Plessy v. Ferguson came Pierce v. The Union District Trustees. The story of Jeremiah H. Pierce's efforts to desegregate Burlington schools.
"Where Blackberries Grew: Margaret Mead in Hammonton" by Patricia Chappine and Mark Demitroff
The story of Margaret Mead's connection to Hammonton, New Jersey.
"A Day on the Bay with Waterman Phil Andersen" by Susan Allen
A stunning photo essay chronicling a day with two local crabbers.
"South Jersey Fruit Picking Tickets" by Richard Watson
All you ever wanted to know about picker tickets and their use by South Jersey farmers.
"From Butcher Knife to Scalpel: Four Generations of South Jersey Physicians" by Lisa E. Cox, Edward Hutton and Ruth Hutton-Williams
Four generations of general practitioners serving Cumberland County from 1826 through 1976.
"Manufacturing from Menhaden: A History in the Mullica Valley" by Kenneth W. Able
The development and decline of the menhaden industry on and near the Mullica River.
"Carabajal, The Jew: A Legend of Monterey, Mexico" by Charles K. Landis, with an introduction by Vince Farinaccio
A short historical fiction depicting the life of Don Luis de Carabajal y Cueva, governor of Nuevo León, written by Charles K. Landis, founder of Vineland and Sea Isle City, New Jersey.
"Reimagining a Remnant of the Past at Stockton" by James Pullaro and Paul W. Schopp
An artistic interpretation of the sawmill erected on what is now Stockton's Lake Fred in 1815.
* * *
We are always looking for submissions for future issues. Contact me if you are interested in writing or know someone who might be.