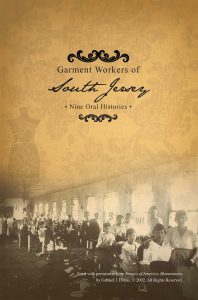 The garment industry was an important component
of the South Jersey economy throughout much of the
twentieth century, especially in the Town of Hammonton,
New Jersey.
Collected here are informative interviews with nine
former garment workers or their family members.
Their stories describe a way of life that balanced hard
work in the factories with the demands of a caring
home life. Here are the words of skilled craftspeople
who took pride in their work, their families, and ultimately
the lives they led.
85 pages, paperback
ISBN: 978-0-9888731-8-6
$7.95.
Jointly published in 2016 by The Stockton Center on
Successful Aging, the South Jersey Culture & History
Center, and Kramer Hall. Available on Amazon and by
contacting SJCHC