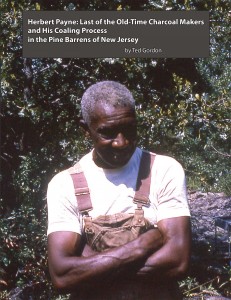 "I've burned charcoal every conceivable way," Herbert Payne once told the writer, "from using that metal kiln you see sitting over there to that partially buried pit with the drainage pipes sticking out."
A master of adaptation, Payne successfully combined the best points of the chimney type pit and the arch type pit, the two prevailing methods that were used throughout the Pines of New Jersey. Ted Gordon, long-time botanist and historian of the New Jersey Pine Barrens, describes the process in complete detail. Originally published in 1982, this 12-page pamphlet has been edited and republished with full-color images.
12 pages, pamphlet bound, $4.
Please note: This title is not available through Amazon but can be purchased from the SJCHC by contacting Tom Kinsella at Thomas.Kinsella@stockton.edu or by mailing a check to the "South Jersey Culture & History Center" for $4 per copy to the following address:
Kinsella
ARHU/Stockton University
101 Vera King Farris Drive
Galloway, NJ 08205