Biographical Information
Julia Schayer– her full name being Julia Thompson von Stosch Schayer– was born in Deering, Maine on January 7, 1842. She was the only child of Zenas Thompson, a clergyman, and Leonara Levitt. Julia Schayer was married twice in her life: her first marriage was to Count Ferdinand von Stosch, who died shortly after the end of the Civil War, and her second marriage was to George F. Schayer. Julia had two daughters through her first marriage and then had two additional children during her second marriage. Her daughter, Leonora grew up to be an American poet and violinist– she was the winner of the 1927 Pulitzer Prize for Poetry. Her son, Richard Schayer was an American screenwriter. Julia Schayer died on March 29, 1928 in Bronxville, New York and she was buried in Washington's Glenwood Cemetery.
Publications
Julia Schayer's work was commonly published in publications like The Atlantic Monthly, Scribner's Monthly, and The Century Magazine (which was formerly known as Scribner's Monthly). While not all of her short stories made it into her one and only published collection, Tiger Lily, and Other Stories, that doesn't mean they didn't leave a lasting impression on the world. Her short story titled "The Major's Appointment" was adapted into a play written by Nelson Wheatcroft and George Backus. The play debuted in March 1892 at the Amphion Academy in Brooklyn. Schayer's "Story of Two Lives" had also been adapted for an episode of the television show "Your Favorite Story" in 1953. Her story "Molly," which was considered to be her first literary success, had been recognized for its accurate portrayal of how life was like in Appalachia.
Tiger Lily, and Other Stories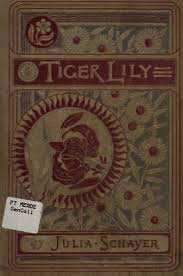 Schayer's stories that had been published in The Century were compiled to form her collection, Tiger Lily, and Other Stories. At 227 pages long, it was published in New York by the company Charles Scribner Sons in 1883. There are five stories that make up the collection: "Tiger-Lily," "Thirza," "Molly," "A Summer's Diversion," and "My Friend Mrs. Angel."
"Tiger-Lily" is the longest story in the collection. It is told from a third-person perspective and follows the character growth of Lilly O'Connell– a mulatto who is living a predominantly white town after the Civil War. The story starts off in her childhood, where readers see her constantly being berated by her peers but Lilly still finds a way to defend the underdog when needed. After knowing what Lilly's backstory is, the story jumps to her in adulthood. There, readers figure out that she is a seamstress and is also engaged to a professor– but that engagement ultimately comes to an end after her fiancee skips town after getting caught in an argument with Lilly. The height of the story comes in when an unnamed illness spreads through the town. Lilly asks a doctor in town if she could be his assistant but even though he turns her down, she takes it upon herself to go out and help anyway. The story ends with Lilly dying before she even turns thirty as a result of the illness. After her death, life goes back to normal and she seems to be forgotten– which ultimately adds to the tragedy of her life.
The "Tragic" Mulatto Trope in Short Stories
When trying to categorize a short story by a specific genre, there can be some challenges that arise. For a story that is coming out of a collection written by the same author, a person can look at each story individually or they can find one, singular genre that runs throughout the entire collection. But with stories, no matter how long or short, comes the opportunity to identify different tropes that come into play– the "tragic" mulatto trope being one that was popularized in stories published in the nineteenth century.
After the Civil War, both white and black Americans pondered about what to do in the wake of the abolition of slavery. The same question was considered by those who had both white and black ancestry, or mulattoes. Those who were considered to be mulattoes struggled to fit in because they did not fit the standards of being white or black and were often considered to be outcasts from the rest of society. This loneliness led to the idea of using the "tragic" mulatto trope in fiction, one that became especially common after the Civil War. Julia Schayer was not the only writer at the time who utilized this trope. Writers like Lydia Maria Child and Kate Chopin also had elements of the tragic mulatto character in their stories during the 19th century.