Thanks to Kathy Horn's sharp eyes and quick-thinking camera work, we have added a new species to our South Jersey Butterfly Project's all-time list, the southern broken-dash, Wallengrenia otho.
Our log is in its 15th year, so new species — butterflies that no one has previously reported anywhere in New Jersey's southern eight counties — do not come often. Until last year we had added no new species at all to our all-time list after June 2017, when Beth Polvino found and photographed a great purple hairstreak in her garden. Now, though, we've added two in the last nine months. Jack Miller won us our 108th species with his superb find of a eufala skipper at Rea Farm, Cape May Point, last November and Kathy has documented our 109th with her find this week.
Polvino's great purple hairstreak and Miller's eufala seemed to come out of nowhere. Both are species generally found only hundreds of miles south of NJ. The southern broken-dash, by contrast, breeds in Delaware and Maryland and has been teasing us for the last six years — since Harvey Tomlinson photographed the butterfly below: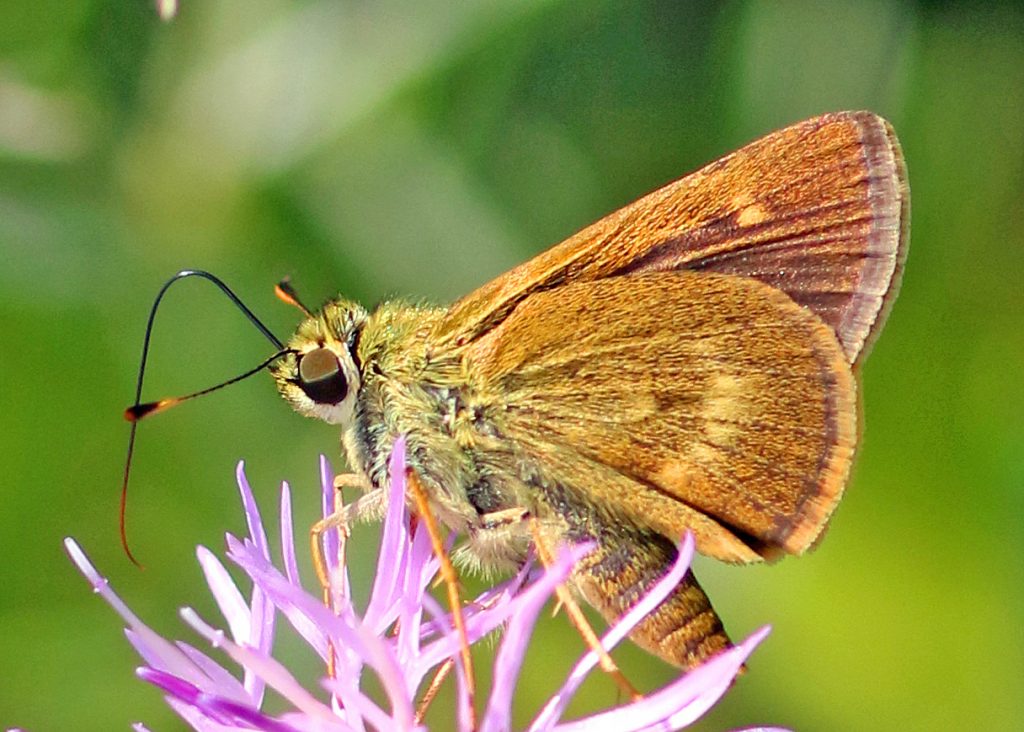 You can see several similarities in the two photographs aboved: both individuals show an reddish overall ground color (different than the darker brown of northern broken-dash), two-toned wing fringes (gray on FW, buff on HW) and another, more subtle field mark to be detailed below.
Two other possible southern broken-dashes were found in the summer of 2016. Will Kerling photographed this individual in Estell Manor, Atlantic County, just three days after Harvey photo'd his:
And a few days after that Dolores Amesbury found this individual in her garden in Cape May Court House:
Despite this flurry, we did not add the species to our log's "official" all-time list. One problem was there were no previous records of southern broken-dash for the state of New Jersey; another was that both SBD and NBD are variable and the differences between them are subtle. We had some other reasons for caution also. If you are interested in those and the history of the taxonomic split between SBD and NBD, see this post from August 2016:
Southern Broken Dash: A Species To Look For?
In the years since 2016 we have had a few "might-have-been" SBDs, but none apparently as convincing as Kathy's individual this week. Here's her superb dorsal shot of her 7-20-22 butterfly:
The South Jersey observers who have studied Kathy's photographs so far agree that this is a southern broken-dash — and at least a couple of us are now re-studying those old photos from 2016. We also have support from three esteemed friends of the Project whose credibility adds much weight to the ID. David Wright replied to a request for his take with "I think [Horn's] photos are Southern Broken-Dash," and he added, "I think the 2016 photos are good too. They align with what Kathy has documented this week." Jim Springer replied, "The evidence for calling [those butterflies] SBDs — especially Kathy's individual — is pretty compelling to me."
Wade Wander sent us the longest comment (shortened here), "I must admit to being somewhat skeptical when I saw the ventral view photo taken by Harvey a few years ago. Although it was obviously reddish and certainly resembled a SBD, I wanted to see more photos of different individuals including the upper surface…
"But having seen these additional photos I am convinced that SBDs are present in south Jersey. And this should not be surprising as many of us have witnessed the northward expansion of many species of birds, moths, odonates, and, most notably, Wawas. Take for example the Dot-lined White Moth (Artace cribrarius). This primarily southern species first appeared at my moth lights in Sussex County in 2017. I have seen it annually since and in increasing numbers. In fact, I have found cocoons, so it is now a resident species. The Carolina Mantis has also rapidly expanded south to north and is now found at least as far north as central Jersey….
"So, is SBD resident? If its host grass is present. then why not now, and if not now, then certainly soon.
"And surely Whirlabout is on-deck."
How To Find Our Next Southern Broken-Dash In South Jersey:
If you are inspired to track down a SBD yourself, the first thing to recognize is that separating it from northern broken-dash is no easy task. Even in states to the south where both species can be found regularly observers differ on the best ways to distinguish them, and most seem to agree it is often a judgment call.
Second, you need to take sharp, well-lit, close-up photographs of any possible SBD that you encounter.
Third, know that most field guides and on-line sources illustrate "text-book" and fresh individuals that we are unlikely to see here until we have a breeding population. (All four of the individuals in the photos above are somewhat worn. If they or future SBDs are all strays from Maryland or Delaware, wing wear is to be expected.)
Fourth, recognize that no single field mark seems completely reliable. To document our next southern broken-dash you will need to find most of the field marks below.
Overall reddish ground color (noted by all field guides).
Two-toned wing fringes — one gray, one buff (noted by Cech & Tudor in their Butterflies Of The East Coast and by a couple of other sources). Tomlinson's and Amesbury's shots and Horn's ventral shot all show this feature.
A yellowish rectangular spot trailing the stigma on males (noted in Kaufman's Butterflies of North America, by David Wright and James Monroe in their Butterflies of Pennsylvania, and elsewhere.) Kerling's photograph and Horn's dorsal shot both show this.
A leading edge of the forewing (the costal area) on males that is brighter and more orange than the same area on male NBDs (illustrated in Cech & Tudor and in Wright & Monroe). Kerling's photograph shows this, and it also seems present in Horn's shot. Neither is "text-book" bright, however.
A pattern of dots in the hindwing underside that suggest a 3 because two of the dots project inward (as illustrated in Glassberg's Swift Guide To Butterflies and in the Kaufman field guide). Amesbury's photo and Tomlinson's photo show this most clearly above. In Horn's ventral shots this feature is suggested by only one dot, perhaps because wing wear has shortened the leading edge of the other dot.
When To Search For Our Log's Next SBD?
Now! All four butterflies above were found in July.
Good luck to all explorers. Keep chasing, photographing, reporting, and enjoying the butterflies of South Jersey.
Jack Connor
July 26, 2022