By Dr. Michael W. Klein, Interim Executive Director of the William J. Hughes Center for Public Policy
Step One to get my head around the mass murders, spurred by anti-Semitism, in Pittsburgh on Oct. 27 was how to talk with elected officials. Step Two is figuring out what to say to elected officials.
What policy changes would help to prevent the next mass shooting? Since the tragedy at the Tree of Life Synagogue, The Washington Post has suggested restoring the federal ban on assault weapons.
The gunman in Pittsburgh used an AR-15 assault rifle and three Glock .357 handguns. The rifle and the handguns were semiautomatic, meaning they fire one bullet with one squeeze of the trigger, then automatically reload and are ready to fire again. The AR-15 is different from its military cousins – the M16 and the M4 carbine used by soldiers and Marines – because it cannot fire in "burst" mode (three rounds with one trigger pull), or in fully automatic mode (firing until the trigger is released or the ammunition runs out). Fully automatic weapons – like machine guns – have been significantly regulated under federal law since the National Firearms Act of 1934.
But make no mistake, the AR-15 is plenty lethal. It shoots bullets more than twice as fast as most handguns. With a standard 30-bullet magazine, which can be quickly replaced, the AR-15 can fire more than a hundred rounds in a few minutes.
Congress and President Clinton outlawed most assault weapons and limited the size of magazines in the Violent Crime Control and Law Enforcement Act of 1994. Title IX of it said: "It shall be unlawful for a person to manufacture, transfer, or possess a semiautomatic assault weapon." Section 110102(b) defined "semiautomatic assault weapon" in four subparagraphs, covering specific brands and models, and specific characteristics of semiautomatic rifles, pistols, and shotguns. The "Colt AR-15" was on the list.
The ban on semiautomatic assault weapons expired in 2004, ten years after its enactment, under the terms of the law itself. Was the law effective during its ten-year existence? Looking at the issue in 2012, using data compiled by authors at Mother Jones, Dr. Sam Wang at Princeton University (whose Princeton Election Consortium is lauded for its accuracy) wrote:
Since the expiration of the gun ban in 2004, the number of [mass] shootings per year has doubled, and the number of victims per year has nearly tripled.
The data defined "mass shootings" as indiscriminate attacks in public places resulting in at least three victims (between 2013 to now) or four victims (between 1982-2012) killed by the attacker.[1]
In a postscript to his piece, Dr. Wang noted competing analyses that reached different conclusions over the correlation between the ban on assault weapons and the number of mass shootings. Still, he could not escape the connection between semiautomatic guns and the number of people they kill. "[T]hese acts are always with us," he wrote, "but advanced weaponry creates an efficiency of scale to allow the possibility of large killings."
The results of this past Election Day make it likely that if the House of Representatives reconsiders the ban on semiautomatic assault weapons, the Senate would stall the measure. While the debate over an individual's right under the Second Amendment to own a semiautomatic assault weapon can seem intractable, UCLA Law Professor Adam Winkler's book, Gunfight: The Battle Over the Right to Bear Arms in America, puts the issue in historical context, noting that the Founding Fathers balanced gun rights with public safety needs. Professor Winkler was this year's Constitution Day keynote speaker at Stockton University, and I had the good fortune to hear him speak.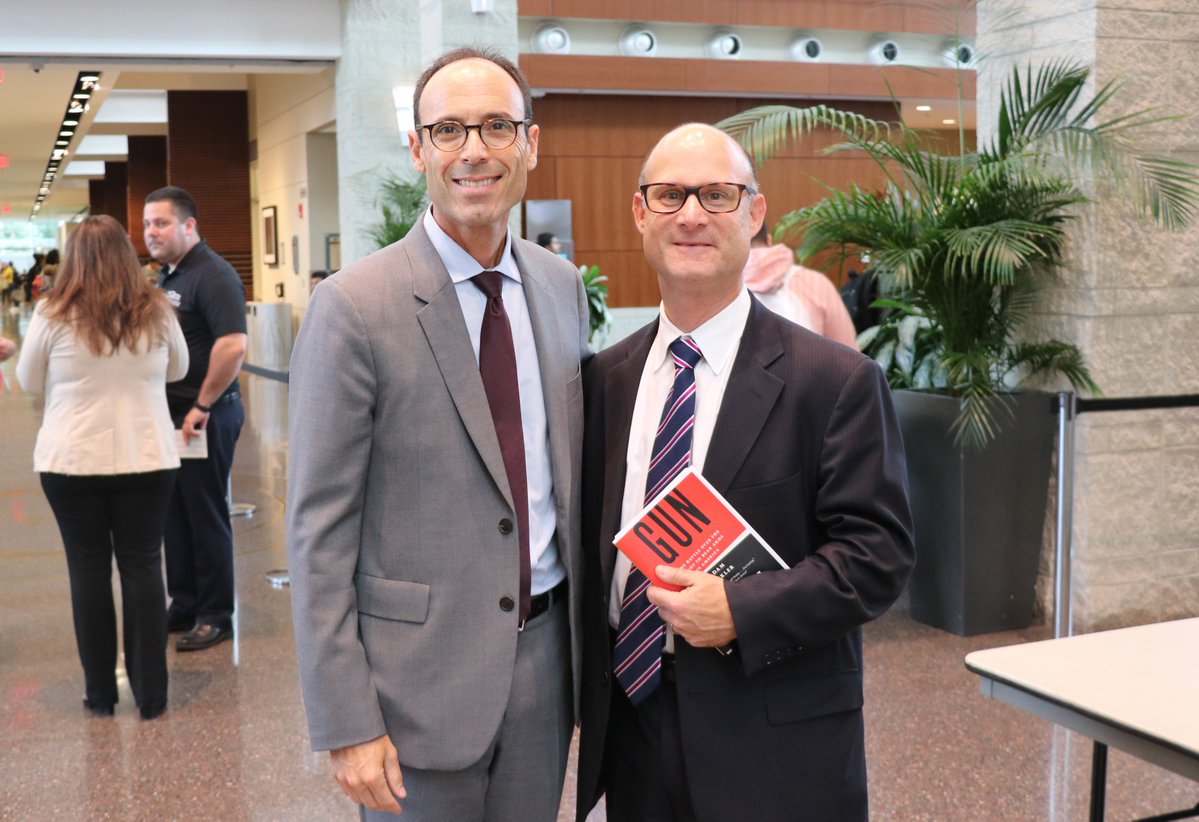 Aside from restoring the ban on semiautomatic assault weapons at the federal level, elected officials at the state level could address the connection between mental illness and gun violence. One option includes "red-flag" laws – formally known as "extreme risk protection orders" or "gun violence restraining orders" – that allow judges to take guns away from people who are deemed to pose a risk to themselves or others. Law enforcement officers or family members of a mentally ill person can petition a judge for that person to receive involuntary mental health treatment based on a pattern of behavior, and to store their guns for safekeeping, until the judge determines it is safe to return the guns.
Thirteen states have enacted red-flag laws, eight of them after the mass shooting at Marjory Stoneman Douglas High School in Parkland, FL. in February 2018. Governor Phil Murphy signed New Jersey's red-flag law, called the Extreme Risk Protective Order Act of 2018, on June 13, 2018, which takes effect in September 2019.
Known already as a state with one of the nation's toughest gun laws, New Jersey may yet take more steps. Governor Murphy is exploring a new package of bills that would, among other initiatives, update the law regarding ammunition purchases, add a new crime for making "straw purchases" of guns for people already banned from owning a firearm, and increase funding for community-based gun-violence prevention programs.
Institutions of higher education can play a greater role in shaping policies on gun safety and mental health. Here at Stockton University, the Hughes Center is working with faculty experts in Criminal Justice, Sociology, and Physical Therapy to explore research on gun violence, mental illness, and community trust. Our colleagues at Rutgers University recently received $2 million to establish New Jersey's Center on Gun Violence Research, which will conduct cross-disciplinary research on the causes, consequences and solutions to firearm-related violence, including homicides, assaults, suicides and accidental shootings.
Our democratic process depends on well-informed policies to protect our safety and our rights. It also requires courageous leaders who inspire – as Abraham Lincoln said in his First Inaugural Address — "the better angels of our nature." My third blog post about the shootings in Squirrel Hill will explore that topic.
[1] The statistical change from four victims to three is the result of the standard used under President Obama's January 2013 mandate for a federal investigation of mass shootings. Mark Follman, Gavin Aronsen, and Deanna Pan explain this in more detail in A Guide to Mass Shootings in America, sadly updated through Oct. 27, 2018.