Nathan Alling Long's stories and essays appear in over fifty journals, including Glimmer Train, Tin House, The Sun, Story Quarterly, Natural Bridge, Crab Orchard Review, Camera Obscura, and Indiana Review. His work also appears on NPR and in over a dozen anthologies.  "Arctic" won the 2015 Open Road Review short story contest, and "Reception Theory" won the 2017 OWT fiction contest.  His collection of 50 flash fictions, The Origin of Doubt, was published by Press 53 in Jan 2018.
Nathan has taught creative writing and Literature at various institutions, including Middle Tennessee State U., University of Richmond, and Virginia Union University. He currently is a Professor at Stockton University, where he teaches creative writing; literature; and Women, Gender, and Sexuality Studies.
Nathan grew up in a cabin in rural Maryland and studied Literature at the University of Maryland (BA) and Carnegie Mellon (MA); he received an MFA from Virginia Commonwealth University. He has hiked in the Himalayas, biked along both U.S. coasts, studied at a Thai monastery, lived on a commune in Tennessee, and for ten years cooked for a Buddhist meditation retreat in Oregon.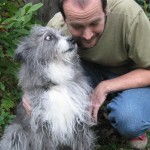 He now lives in the Germantown area of Philadelphia, PA, with his partner Courtney. His dog Gracie (featured in the "This I Believe" essay found in the "Select Essays" page) passed away in 2011.