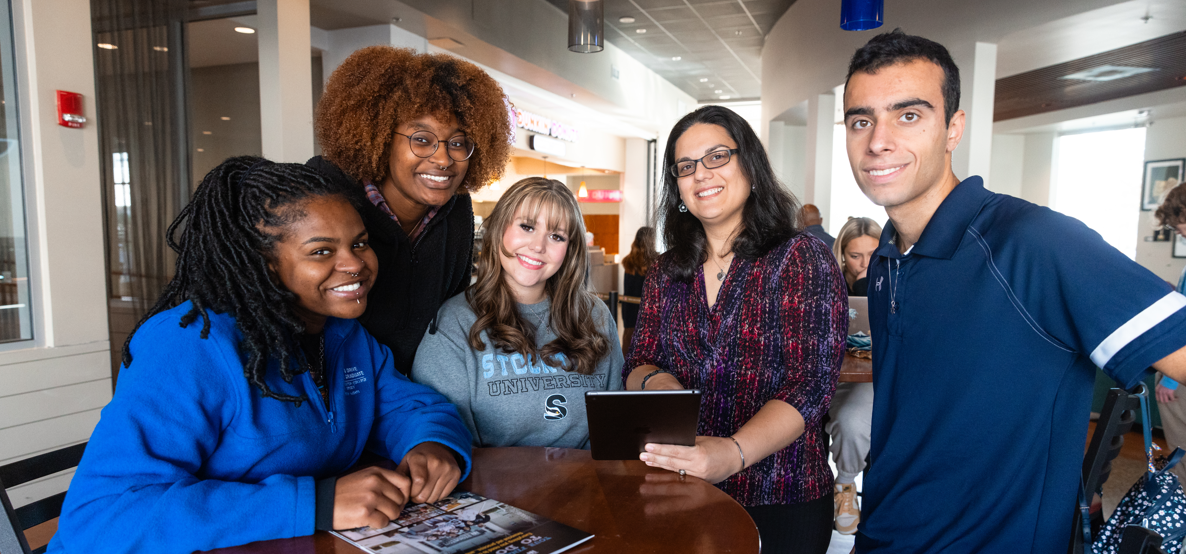 It's no secret, Ospreys! The FAFSA is changing! Beginning with the 24-25 Free Application for Federal Student Aid (FAFSA), the U.S. Department of Education is changing not only the look of the application, but also the methodology used to determine federal financial aid eligibility. The goal of these updates is to expand eligibility for federal student aid and to create a more streamlined application process and a better user experience for the FAFSA form.
So.. what exactly does this mean for you? What are the changes you can expect to see on the 24-25 FAFSA? First, the 24-25 FAFSA is delayed. It will be available at some point in December 2023! When you log into the 24-25 FAFSA, it's going to look a lot different.. the process of filling it out is going to be different, some of the information you're required to submit will be different (some is going away, some is being added), your aid eligibility could be different.. basically everything you know about the FAFSA is changing!
In order to help you navigate these changes, we've compiled a list of updates and important points of information that we think you should know before the 24-25 FAFSA becomes available.
What's New with the 2024-2025 FAFSA?
There will be fewer questions used to determine a student's aid eligibility. Federal Student Aid will only use approximately 40 questions to determine a student's federal financial aid eligibility.
The number of students in the household in college will no longer be used in the formula to determine aid eligibility. Household size will be pulled from the number of dependents on the parent's tax return. This number can be manually updated if the number in the household differs from the value on the tax return.
The Student Aid Index (SAI) will replace the EFC in determining the federal aid for which students may be eligible. The name is changing, but the idea is the same. The federal government will take the information reported on your FAFSA and plug it into their 40(ish) question formula to determine your SAI. This number doesn't mean much to students and families. It's used by the Department of Education and the schools to determine eligibility for need-based financial aid, including the Federal Pell grant.
The Direct Data Exchange (DDX) will replace the IRS Data Retrieval Tool (DRT). The DDX will import tax information into the FAFSA directly from the IRS after the student and/or parent(s) consent to the data exchange.
Students and parents will now need to consent to have their information transferred into the FAFSA directly from the IRS. Without consent, students will not be eligible for federal student aid or be eligible to receive an SAI. To provide consent, students and parents will click the "Approve" button when prompted within the FAFSA.
Students & parents will complete their sections of the FAFSA separately. Dependent students will add their parent's as "contributors" to their FAFSA by entering their name, date of birth, social security number and email into the application. Contributors will receive an email asking them to log into the FAFSA, using their own FSA ID (new users will need to create one). If parents are married or unmarried and living together, both parents will need to complete this process. Only one parent will have to complete the process if parents are married and filed a joint tax return. All contributors must complete their sections of the application for a student's FAFSA to be submitted to Federal Student Aid for processing.
Once the FAFSA launches in December, parents without social security numbers will be able to create their own FSA ID's and complete their sections of the FAFSA with them.
Those who select that they have an unusual circumstance on the FAFSA will be able to complete the application without parent information and will receive a provisional SAI and aid offer. The school must determine, through documentation if the student's situation warrants the independent status (This is what we call a Dependency Status Review). If it does not or cannot be proven, they will have to update the FAFSA and provide parent information.
There has been a reduction of untaxed income items required on the FAFSA. The required untaxed income items include only: Deductions and payments to self-employed SEP, SIMPLE, Keogh, and other qualified individual retirement accounts excluded from income for federal tax purposes, but excluding payments made to tax-deferred pension and retirement plans, paid directly or withheld from earnings, that are not on the federal tax return; Tax-exempt interest income; The untaxed portion of individual retirement account distributions (excluding rollovers); The untaxed portion of pensions (excluding rollovers); and The foreign earned income exclusion
Child support received is now reported as an asset (report the amount received in the last complete calendar year)
Education Savings Plans for the applicant only are reported as parental assets. Previously the value of plans for all children were required.
The net worth of any business (not just those over 100 employees) must be reported
The net worth/value of a family farm must be reported including value of land, buildings, livestock, machinery, unharvested crops, etc., minus any debts against those assets
We know.. that's A TON of information.. but please, don't be discouraged. A lot of these changes are going to make the FAFSA easier to complete for the majority of students. Also, please don't feel like you have to memorize any of this! When you're logged into the FAFSA, you'll be able to see directions on what information the federal government wants you to do/report with each question and section.
One thing that is super important to note is that all contributors need to complete, sign and submit their sections of the FAFSA before it is submitted to Federal Student Aid for processing. FSA has already announced that their will be a delay in when schools will receive FAFSA data. Even though the FAFSA will be available in December, schools will not begin to receive FAFSA data until the end of January at the earliest! This means that there will be delays in the processing of aid offers as well as requirement/document collection. Please be sure to continually monitor your emails for information from the Office of Financial Aid with updates and next steps.
Once the university receives your FAFSA, the Higher Education Student Assistance Authority (HESAA) will also receive a copy. They will determine your eligibility for state aid programs including the Tuition Aid Grant (TAG), EOF and the Garden State Guarantee. As of today, HESAA has not announced any updates to their processes or deadlines, meaning that the way you apply for state aid remains the same with the 24-25 application cycle- you'll file your FAFSA and then monitor your emails and your njfams.hesaa.org account (create one if you haven't already!) for requests for additional documents as well as updates on your state aid eligibility. NEW! HESAA has extended the deadline to submit the 24-25 FAFSA for anyone who has TAG in 23-24. The new deadline to submit the 24-25 FAFSA for anyone who had TAG in 23-24 is May 15, 2024.
These changes might seem a bit overwhelming, but we can ease some of that stress by preparing now!
What can you do now?
We understand that this whole process may seem stressful and maybe even a little scary, but we want to make sure that you know that we are here for you! We're in this together, Ospreys!
View a recording of our "Understanding the New FAFSA" presentation on YouTube to hear all about the changes we discussed above and to see a sneak peek of the 24-25 FAFSA!
Please continue to monitor your emails and follow us @stocktonfinaid on Facebook, Instagram and X (formerly Twitter) for updates! We'll be sure to let you know when the 24-25 FAFSA is available as well as all of the information you need to know to ensure a successful application process!