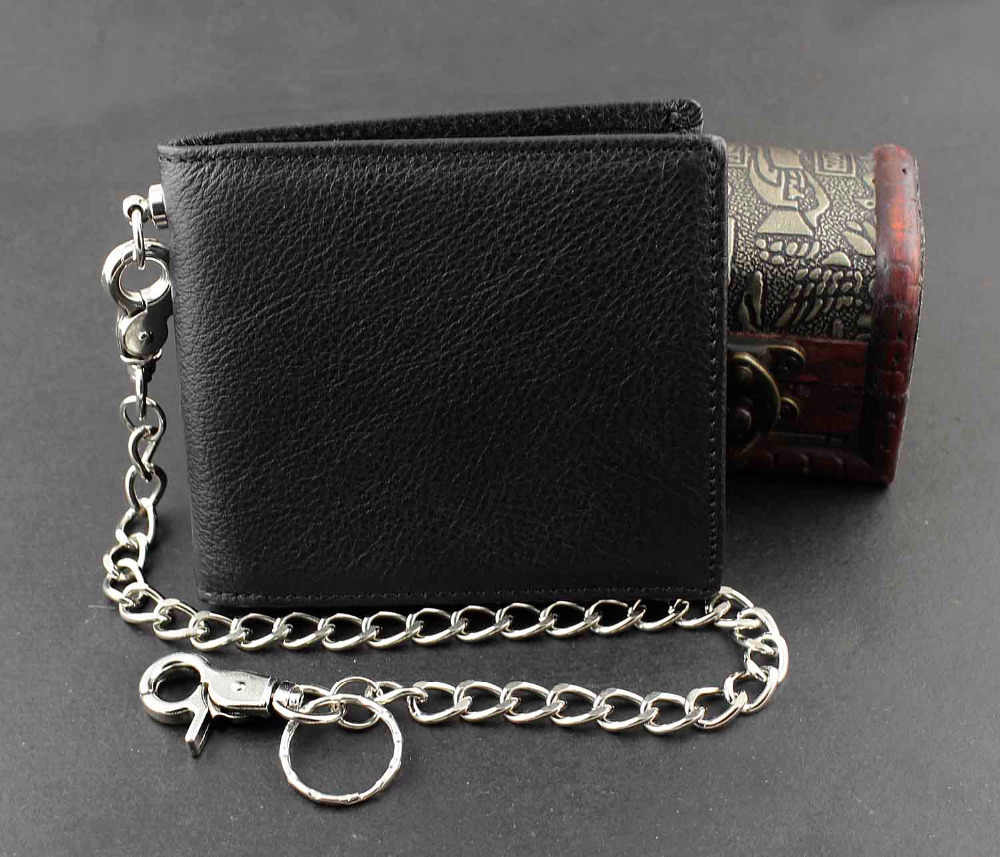 Today, when all payments can be carried out with a phone, many people started getting rid of wallets. Bulky and cumbersome, they've been gradually turning into a relic of the past. But don't rush to throw your pocketbook away. Maybe you just haven't found a worthy wallet yet. There is a type of a billfold that will definitely please any man, whether he is a fashion plate or a fan of the good old classic. We are talking about chain wallets.
This accessory is more than a wallet with a loop to attach a chain. It has inspired many iconic personalities and even became a trendsetter itself. You can spot a pretty massive chain hanging from a belt of iconic punkers to of the 1970s-80s, rebellious grunge rockers of the 1990s, and hip-hoppers of 2000s. At some point, a wallet chain separated from a wallet and turned into a self-sufficient accessory. Indeed, these two items can co-exist absolutely independently, but if you are searching for more than looks, it is a good idea to pair a chain and wallet into one item.
Why? The answer is clear – to protect your essentials from disappearing. We'll talk about it in more detail in a bit.
Chain Wallets are Safe
Before becoming a fashionable accessory, chain wallets carried an exclusively utilitarian purpose – to safeguard a wallet from stealing and loss. People have attached pocketbooks to their bodies for centuries but special-purpose chains occurred only in the 1950s. We should thank bikers who came up with an ingenious idea to use a thick chain to securely affix a wallet. Billfolds started being constructed to accommodate a loop or grommet; thus, it became a snap to attach a chain on the go.
If not for bikers, we probably wouldn't know about chain wallets at all. But those guys needed a solution to prevent a wallet from slipping out of a back pocket while riding a motorcycle, and they've found it. On top of preventing accidental loss, such a construction will keep pickpockets away.
Many Styles to Choose From
Since a chain wallet consists of two individual pieces, there is an abundance of ways to manifest your creativeness. When it comes to wallets, the selection of available models is mind-blowing. From traditional cowhide bi- and tri-folds to exotic leather pocketbooks with intricate carving, appliqués, gem encrusting, contrasting inserts, etc. Such items may carry intriguing symbols such as skulls, skeletons, crosses, sheriff stars, wolves, etc, which make them a spot-on choice for subculture followers.
There is only one rule applied to wallets – they must be made of natural materials. Pleather and other artificial materials just won't last long if shoved and pulled out of a pocket all the time. If you're on a budget, there are affordable cowhide wallets that will last at least 10 years if cared for properly. If you need a more durable solution, try a stingray leather piece; stingray leather is the sturdiest natural material for accessories.
Chains carry various designs as well. Ranging from Western-inspired leather chains to formidable heavyweight silver chains, it is not a problem to find an item to perfectly blend with your wallet and overall style.