An exhibition of poetry at the Library of The Richard Stockton College of New Jersey. November 30, 2011 – January 31, 2012.
Contemplating Place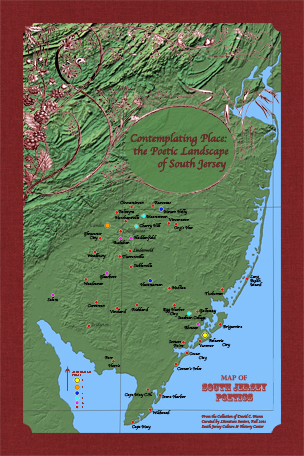 The urge to describe the local landscape through verse is old, dating back to the Sumerian empire if not further. Such ­poetic expressions can be complex cultural acts. Descriptions of external place, the physical world, often lead to deliberations upon the internal, even upon the eternal. Here is a collection of verse written about South Jersey or by South Jersey poets (and ­often both). Not surprisingly, reflections upon the ocean, beach, ­river, and town frequently deepen into meditations upon the human condition. Some of the verse is dated, some is down-right poor, but much of it is good, and all of it is homegrown and speaks in some way to the South Jersey condition.
The poetry in this exhibition was generously loaned by David C. Munn, former librarian of New Jersey materials, who has amassed an important collection of literature relating to New Jersey, especially South Jersey. Mr. Munn has opened his collection to Stockton students and offered his expertise, for which we are deeply grateful. The curators of this exhibition, who selected and researched texts, then wrote the material you are reading, include Stephanie Allen, Georgianna Aspenberg, Ryan Ballard, Kristin Corum, Alyssa Flynn, Christina ­Gallagher, Sara ­Klemowitz, Katherine Malachefski, Jenna McCoy, ­Phillip ­Potter, Ashley Rogers, Stefanie Schulte, Jessica Walkowich, Daniel Weir – all members of the Senior Seminar in Literature, Fall 2011 – and Tom Kinsella, their instructor.