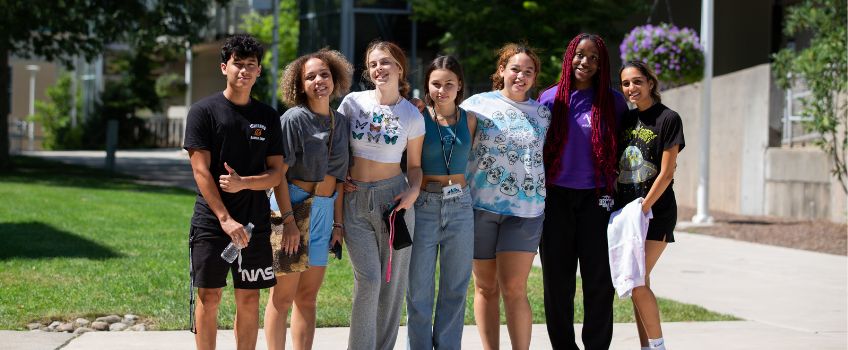 College is an investment. By choosing to attend college, you're setting yourself up for the future by investing in yourself. The scope of this investment is why it is so important for students and their families to understand concepts like budgeting, responsible borrowing, interest rates and more before making any financial decisions.
When reviewing your costs, it's important to review the resources that you have to pay for them. What was your financial aid offer? Do you have money saved to contribute to the bill? Can you afford to sign up for a monthly payment plan? Do you have any scholarships or grants to help cover your costs? Is borrowing the route you need to go?
Deciding how to finance your education is one of the most important decisions you will have to make in your life. Decisions that are made now will have significant impacts on students and their families for years to come. We know that navigating the college financing process can be challenging and the whole thing can seem just a bit scary, right? Don't worry! We're here to help make it as simple as possible to understand, so that you can make the best, most informed financial decisions for your future.
The first step in the college financing process is always applying for financial aid. Apply. Even if you don't think you'll be eligible for any type of free money, apply. U.S. Citizens and eligible non-citizens will file the Free Application for Federal Student Aid (FAFSA) at fafsa.gov each year to be considered for all types of federal, state and institutional aid available. At the very least, these students are offered a loan(s) through the Federal Direct Loan program, administered by the U.S. Department of Education. Now, we know what you're thinking… "loans aren't financial aid." Well, these loans are considered financial aid for a few reasons, but we'll talk more about them below. The most important thing to know right now is to.. apply!
If you are an undocumented student classified as an NJ Dreamer (see criteria to be considered an NJ Dreamer here), you will complete the NJ Alternative Application for State Financial Aid Programs at hesaa.org to determine your financial aid eligibility.
After applying for financial aid, your next step is to view your estimated costs. You will factor in tuition and fees and then, if you are living on-campus, you will want to factor in housing and meal plan costs. These will be your direct costs, which are things you will be billed for by the school. Students and families can utilize our Bill Estimator at stockton.edu/bursar for an estimate of their direct costs aka their bill (per semester) at Stockton University. To get an estimate of a full year's bill, multiply the estimate by two.
After determining an estimate of your direct costs, you may also want to think about indirect expenses like books & supplies as well as transportation to get to campus if you are commuting to campus. Indirect expenses are not things you will be billed for, but rather expenses you may incur as a result of being in school, so they can also be important to think about.
Direct Costs (tuition & fees and housing & meals, if applicable) + Indirect Expenses (books & supplies, transportation costs and other miscellaneous expenses) = the Cost of Attendance
Once you have applied for aid, you will receive an aid offer from us detailing all of the aid for which you could be eligible. Remember to respond to any requests for additional information from the school or the state of New Jersey's Higher Education Student Assistance Authority (HESAA). You aid offer is contingent upon you completing all outstanding requirements and meeting applicable deadlines.
Once you have your estimated your direct costs and you have your financial aid offer, what's next? Combine them! First, take your estimated costs for the year (only use direct costs if you want to know an estimate of the bill to the university) and subtract any free money that you are offered (grants and/or scholarships). After you subtract the free money, you are left with the estimated amount that you are going to owe the university for the year.
Now it's time to think about how you're going to fill that gap between your aid and the total cost. This is where your decision-making becomes very important. We know that this part of the process can seem especially overwhelming, but there are many different options to help fill this gap! Some of these include:
• Signing up for a payment plan
Payment plans are a great option to help reduce any debt by reducing the total amount you borrow over your time in school. The less money you borrow, the less of the principal and interest you have to pay back in the future.
Stockton University bills students per semester. Each bill can be broken down into as many as five payments, which can make making payments a little more manageable. With a payment plan, each payment is the entire bill divided by your number of payments. For example, if your bill is $5000 and you sign up for the five-payment plan, each payment will be $1,000.
You can also use this option in combination with another option. Say, for example, you are able to make payments of a certain amount for each of the months within your payment plan. You can subtract the total amount that you are able to contribute over the months you have your payment plan set up for and then borrow the rest. For example, say that your total bill is $3,000 and you are able to contribute $200 a month for five months. You will sign up for the five payment plan and then subtract $1,000 ($200 x 5) from the total amount owed ($3,000). This gives you $2,000 ($3,000-$1,000) left that you can pay either through scholarships or through borrowing.
• Applying for scholarships
Another great way to find some extra funding for school is to apply for scholarships. There are tons of scholarships out there, you just have to search for them! Great resources to search for scholarships include yours or your parent(s) employers, your high school guidance counselors, local civic organizations and Stockton's Scholarship Resource Center. Apply for as many scholarships as you can! Just be cautious when providing information. No one should be asking for your social security number, credit card or bank information and they should not be charging you a fee to apply or promising you a reward just for applying. Even scholarships that may seem small can make a big difference in paying for the cost of your education. The more money you have available to pay now, the less you will owe in a loan and interest later.
• Borrowing
Borrowing.. the topic everyone dreads. There's this negative connotation surrounding borrowing as if we should never do it. Of course, we always want to be able to pay for things immediately or out of pocket to avoid having to pay more on interest and other fees, but like we said earlier, college is a big investment. The price tag is usually more than most people can afford to put out of pocket, so borrowing becomes a must for many to be able to attend school. What this means is that.. it's okay to borrow! The most important thing to remember is to borrow responsibly and don't borrow more than you actually need. Understand the process and know the terms and the effects of borrowing before you do it, so you're setting yourself up for success and are prepared for repayment when the time comes.
We mentioned Federal Direct Loans before. When considering borrowing, these are usually the loans you want to consider first. Federal Direct Subsidized and Unsubsidized loans are considered financial aid, as they do not require a credit check for the student. They are loans given to the student each year (up to an aggregate limit) in good faith that the student will repay them after graduation.
A subsidized loan is need based. What is special about this loan is that it does not start to accrue interest until 6 months after the student graduates or drops below half-time enrollment. Just like most private loans, unsubsidized loans begin to accrue interest immediately after the loan is disbursed; however, federal direct loans come with a lower interest rate than most private lenders. Some of you may be shocked to hear this, but interest rates for private lenders can be upwards of 10-12%. In the 2021-2022 academic year, the interest rates on Federal Direct Loans was 3.73%. If borrowing is the route you have to go and you haven't found an interest rate lower than that of the federal direct loan(s) offered to you, it is recommended to utilize them first.
One of the most important things to understand when it comes to borrowing is interest. Interest is the percentage that a company charges for you to borrow their loan. Interest will accrue on the principle, aka the amount of the loan that you borrow up until you pay it off. In the end, you will end up paying back the amount that you borrowed plus all of the interest that has accrued over time. The higher the interest rate, the more you will be paying back over time. And the more you borrow, the more your interest accrued and paid ends up being because it is a percentage of the amount that you borrowed. The best thing to do is to use an interest calculator to determine how much you will end up paying on a loan in total. For example, taking out an $11,000 loan with a 9.99% interest rate and paying that loan back over 30 years will cost you over $30,000. You end up paying over double the loan because of the interest rate.
Although borrowing isn't always what we want to do, sometimes we have to. Just think of the investment that you're making in yourself. Some things to think about when borrowing include:
• Only borrowing what you need- If you can afford to pay some of your bill out of pocket and then have to borrow some, do it! Reducing the amount that you borrow, even if it's by a little will save you in the long run.
• Search for the lowest interest rates available- Lenders are going to offer you different interest rates. Make sure you are looking to see who has the best ones and which loans have the best terms and conditions for you.
• Finally, remember that the quicker you pay off your loan, the less you will end up paying because less interest will accrue over a shorter period of time. Don't strain yourself to pay off your loan(s) too quickly, just make good financial decisions and do what you can.
Please note that most students do not have established credit, so they will require a credit-worthy co-signer to assist in obtaining an education loan.
You are free to borrow from any lender you choose; however, Stockton University provides students with a historic list of lenders (a list of lender with whom Stockton University students have borrowed from within the past 3 years). View the historic list of lenders at stockton.edu/finaid.
For more information on financial literacy and responsible borrowing, visit stockton.edu/finaid.
Once you decide how to pay any gap you have between your costs and any financial aid that you were offered, the rest is easy! Bills become viewable on the goStockton portal in July and they are due in full in August, unless you sign up for a payment plan. All free money offered to the student is accepted automatically. If they would like to borrow the Federal Direct Loan(s) offered to them, students will have to accept them within the goStockton portal and then complete one Entrance Counseling (an introduction to borrowing course) and one Master Promissory Note (MPN) (an agreement to repay the loan(s) on studentaid.gov. Once these requirements are complete, the Federal Direct Loan(s) will be applied to the bill.
If borrowing additional loans is the route you are going to go to cover any left-over gap, you will select a lender based on the criteria mentioned above (low rates, best terms and conditions for you) and apply for a loan with them (you can apply for multiple loans and see where you can get the lowest rate from). Once you have selected a lender, are approved and the lender has everything they need from you, they work with the school to certify the loan. Then it will automatically be applied to the bill. When applying for private loans, students who are incoming for the fall usually apply for the entire academic year, so that they do not have to worry about applying again in the spring. We will automatically apply loans approved for the entire academic year to both the fall and spring semesters, so there is no extra work for you.
Okay, we know this is a lot, but when you break it down into a few steps, it isn't so bad! Just remember:
• Apply for aid
• Determine your costs
• Subtract any free money (grants and scholarships) you receive from your estimated costs- this is your gap
• Determine how you want to fill the gap- payment plan, scholarships, loans, etc.
• If you select a payment plan, sign up beginning in July and make your payment installments each month
• If you apply for and receive private scholarships, they are either sent to you or the school. Once they are applied to the bill, you can see how much of a gap there is (if any) and then make your decision of how to cover the difference
• If you decide to borrow, search for a lender with a low interest rate and terms that are best for you. Then, apply and provide all documentation and information requested by the lender. The school will work with the lender to certify the loan. Just monitor your bill to see when the loan is applied.
Remember, you can also use any combination of these methods to help cover your balance! It's all about doing what's best for you, now and in the future!
Also remember that you are not alone in the process! We are always here to help! We provide tons of online resources to walk you through the process and we also offer one-on-one phone appointments to support you and your families! Visit stockton.edu/finaid to view our online resources. Still have questions? Schedule a phone appointment with a member of our staff at stockton.edu/contactfinaid.
We look forward to welcoming you into the Osprey family soon!
The Financial Aid Team
Office of Financial Aid
Stockton University