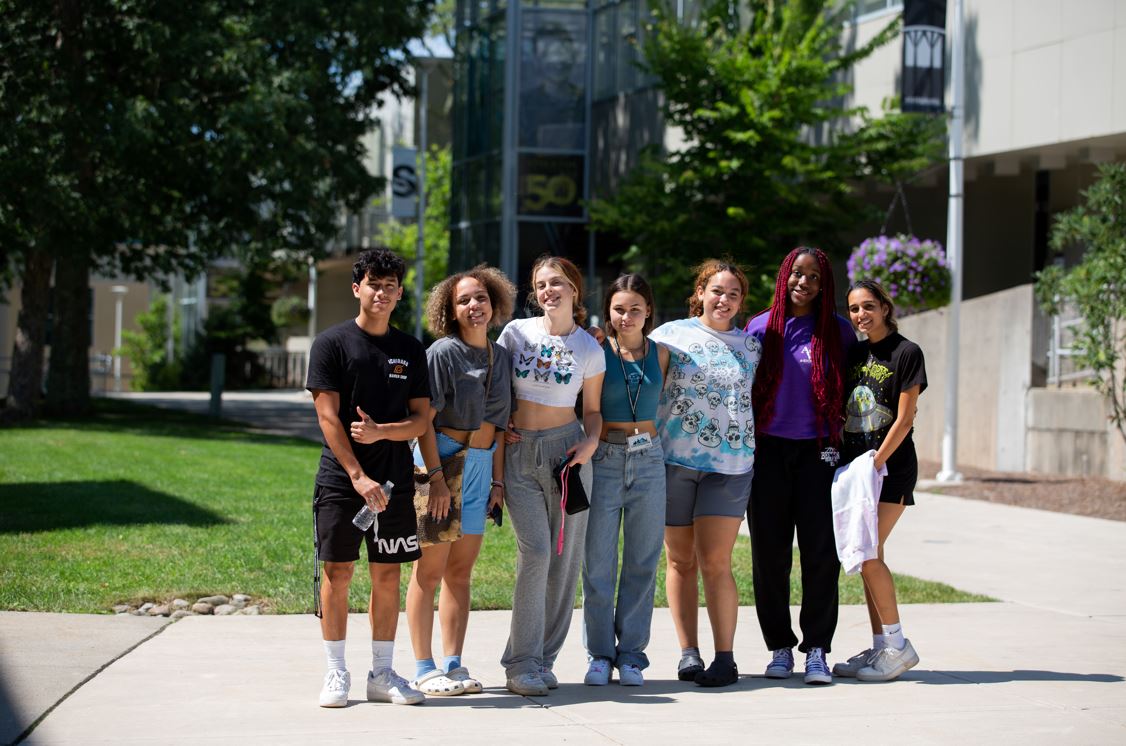 Looking for ways to save money and cut your costs for college attendance?
We're here to help! At Stockton, we want to make sure that our students are set up for a successful future. Not only does that mean providing students with a quality education, but it also means making sure that our students are set up for financial success.
As a college student, it is important to think about how the decisions that you are making now will affect you in the future. Cutting your costs and borrowing responsibly are two of the ways to put students on the road to future financial success.
Check out the tips and tricks below to help you along the journey financing your college education!
Undergraduate students: Take advantage of Stockton's flat rate tuition, where you can take 12-20 credits for the same price! To view flat-rate tuition rates as well as per credit rates, visit stockton.edu/bursars.
Attend full-time (12 credits or more) to maximize your aid! Some aid programs are contingent upon full-time enrollment, while others are prorated based on credits enrolled. To learn more about the aid programs available as well as terms and conditions of those programs, visit stockton.edu/finaid.
Work during your time in school. Any little bit you can contribute towards your education now will save you money in the long-run! Working can also help with indirect expenses like books and supplies! Even if you are not a Federal Work Study student, there are jobs available for you! Visit stockton.edu/handshake for a list of on-campus employers.
Take advantage of a payment plan! Stockton offers up to a 5 payment plan per semester. Utilizing one of our interest-free payment plans could reduce the amount you have to borrow, which will save you in interest!
Limit your loan debt by only borrowing what you need to pay for tuition & fees and housing & a meal plan, if necessary.
Understand the affects of borrowing. Interest on loans can cause you to end up repaying as much as 3 times the original loan amount, if not more. Utilizing low interest loans is key! Reducing your borrowing, understanding interest rates and paying your loan off as quickly as possible can all help you save money in the long run.
Apply for as many private scholarships as possible! Visit our Scholarship Resource Center at stockton.edu/finaid to view scholarship opportunities as well as scholarship search sites and follow us on Twitter @stocktonfinaid
For current students: Apply for Stockton University Foundation Scholarships beginning in January! Visit stockton.edu/foundation to learn more.
For residential students: When selecting your housing option, be sure to compare each option and factor in meal plans to determine the most cost effective option for you.
For commuter students: Arrange your schedule so that your courses fall on the same days to reduce the number of days you have to commute to campus; therefore, reducing costs associated with commuting.
Take summer classes to get ahead! Some summer courses are accelerated and can help students get ahead. Graduating early can help reduce costs!
Of course not every option presented works for everyone, but any little savings that you can make now will help you in the future.
To assist students in learning more about financial literacy, we maintain a financial literacy page on our website that goes over and provides resources for college financial planning as well as loan repayment. Visit stockton.edu/finaid to view information on financial literacy.
Our goal is to make the college financing process one that is simple and stress-free for students and family members. If you have any questions throughout the process, our staff is here to help! Visit stockton.edu/contactfinaid to email or schedule a phone appointment with a financial aid counselor.