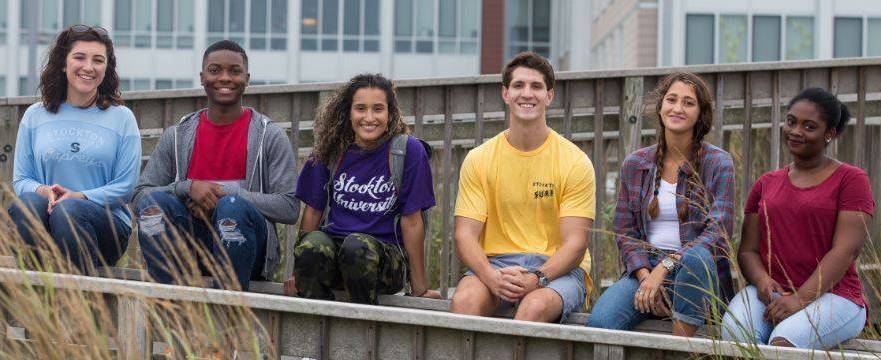 Ever wonder how financial need is determined and financial aid offered? Sometimes, the process can be a bit confusing, so we've decided to break it down into 3 simple steps.
Step 1: You file your FAFSA!
The FAFSA becomes available on Oct. 1 of each academic year. Be sure to fill it as as soon as possible to better prepare you for the upcoming academic year at Stockton!
File at fafsa.gov.
Please know that to be considered for any Federal, State or institutional aid, including scholarships, Stockton students must complete this financial aid application.
Have questions regarding the financial aid process? Please visit stockton.edu/fafsa for step-by-step instructions. Need additional information? Visit our financial aid contact page to email or schedule a phone call with a member of our staff.
Step 2: The Federal government determines your Expected Family Contribution (EFC)
Once you file a FAFSA, the federal government uses the information provided on your FAFSA to calculate your Expected Family Contribution (EFC). Your EFC is the indexing number the Federal Government uses to determine grant eligibility.
The following are a few of the factors considered in determining your EFC:
Your family's income (taxed and untaxed)
Assets and benefits (including, net worth of investments, a business or unemployment benefits, etc.)
Your household size and the number of members of the household who will attend a college or career school
Step 3: We offer your financial aid
After we receive your EFC, we then use both your Cost of Attendance (COA) and EFC to determine your need. The COA includes direct (what you are billed for) and indirect (potential expenses) costs.
We offer financial aid based on the following formula provided by the federal government:
Cost of Attendance (COA) Minus Expected Family Contribution (EFC) Equals Need
Your financial need is used to determine your eligibility for certain aid programs including the Federal Pell Grant Program, the Federal Direct Subsidized Loan Program and the State Tuition Aid Grant Program. Federal Direct Unsubsidized Loans, Parent Loans for Undergraduate Dependent Students (PLUS loans) and private/alternative loan resources are not based on need, but are considered part of a financial aid package.
Once your need is determined, we will send you a financial aid offer, which is where you will see the types of financial aid for which you may be eligible, including grants, scholarships and loans.
Please note, your need is not how much money you will receive to pay your bill. Subtract your financial aid from your bill, which can be viewed on the goStockton Portal to determine how much money you will need to pay your bill.
Use the Bill Estimator to estimate your direct costs.
Visit stockton.edu/finaid
for more information!