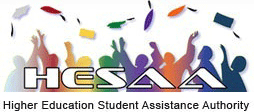 The State of New Jersey has revised their procedure for determining State Financial Aid eligibility for the 20-21 academic year. The new procedure eliminates the student's need to answer additional questions on the State's NJFAMS site after filing a FAFSA.
Beginning with the 2020-2021 academic year, NJ residents
will no longer need to answer the NJ State Additional Questions to be
considered for state grants.
After filing the FAFSA, the state will receive a copy of the
application. They will then work to determine eligibility for state aid
programs based on the information provided on the FAFSA. Students can view
their eligibility by logging on to njfams.hesaa.org.
New users will need to create a username and password.
In some cases, students may need to provide additional
information to the state for them to determine their eligibility. Students are
encouraged to log on to njfams.hesaa.org
and click on their "To Do List" to view any outstanding requirements of
documentation the state may request.
If you have additional questions about New Jersey State
Financial Aid Programs, visit njgrants.org or call
800.792.8670.