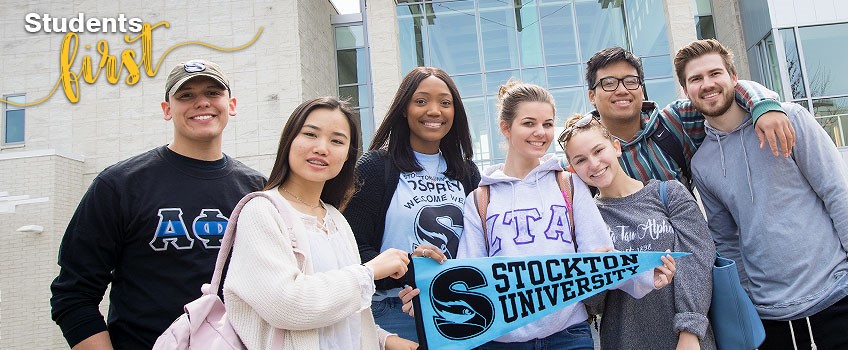 Welcome incoming students!
By now you have paid your Admissions deposit and are ready to enter the next phase of preparation for your first day of classes in September! We're so excited to welcome you to Stockton!
As you count down the days, we want to make you aware of some important dates and events that occur during the next few months.
Review the timeline below to make sure you don't miss any important dates.
Now
Accept or decline your Financial Aid Awards – If you have not already done so, accept or decline the Federal Direct Loans that you have been offered. If you choose to accept the Federal Direct Loans offered to you, be sure to complete your Entrance Counseling and Master Promissory Note on studentloans.gov. Visit stockton.edu/fafsa for step-by-step instructional videos.
Verification Documents – If you are selected for Federal Verification, your financial aid awards are not guaranteed until you complete your unsatisfied requirements. Only students who have been selected for verification by the federal government will receive a request for documents from the Office of Financial Aid. To learn more about the verification process and how to complete verification requirements, visit stockton.edu/verification.
June
Orientation and Registration – begins in June.  The university will contact and inform you of the date you are to come to campus to register for classes.
Alternative Loans or Payment Plans – apply after you register for classes.  You will print out your account summary at registration. This will tell you the amount due to the Bursar's Office for the fall term. Remember you may owe the same amount for the spring term so multiply the amount by two. For alternative loans, go to stockton.edu/finaid and click "Education Loans." For payment plans, visit the Bursar's web page.
August
TAG Awards – If you have been awarded TAG (Tuition Aid Grant), be aware that this award value may change after the state budget is final. HESAA (Higher Education Student Assistance Authority) will notify you in August if your award value changes. HESAA will also notify the Office of Financial Aid and we will make the TAG award adjustment.
Early August
Housing residents – If you are living on campus, expect a housing assignment letter via e-mail from the Office of Residential Life.
August 1st (Thursday)
Payment Due Date (Bursar's Office). Payments must be made in full by August 1, unless you enroll in a payment plan.
August 30th (Friday)
Move in Day – New housing residents move on campus.
September 4th (Wednesday)
We hope this timeline provides you with information you can use as you plan your summer.
Have questions? Visit stockton.edu/fafsa for more detailed information and to view step-by-step instructional videos to help guide you through the process. Need additional assistance? Ask us a question here!
Follow @stocktonfinaid on Facebook, Twitter and Instagram for a first look at the most important financial aid information, updates, deadlines, tips & tricks, scholarship opportunities and much more!
We look forward to welcoming you as an Osprey soon!