The scarcity of observations we have so far this year for Hayhurst's scallopwing (only 9 as of 7-22-13) and Jesse Amesbury's recent photo from his backyard inspired a look-back at our records for the species.
In five and a half years, we have collected a respectable 225 reports of Hayhurst's, but the county by county breakdown shows a startling imbalance:
130 reports (58%) from Cape May County.
77 reports (31.5%) from Gloucester (most from Dave & Pat Amadio's garden)
17 from Cumberland (7.5%)
1 report from Camden County (Chris Herz's garden — June 26th last year).
Our four other counties? Atlantic? Burlington? Ocean? Salem? At the moment, each is looking for its first log record.
Is this imbalance an accurate reflection of the species' distribution in South Jersey? Or are some of us possibly overlooking it in our home counties?
Gochfeld and Burger note a single report of Hayhurst's in Ocean County by Jim Dowdell, apparently in the 1990s, and North Jersey NABA's range map on their new website indicates at least one photographic record for Burlington County sometime after 2000* (with no records of any kind for any of NJ's central and northern counties.)
North Jersey NABA Website for Hayhurst's scallopwing
The BAMONA (Butterflies & Moths of North America) website shows a number of sightings west and somewhat north of us (in Pennsylvania, Ohio, and elsewhere), but none north of us on the East Coast:
Lamb's quarters, Chenopodum album, the primary host plant, seems common in our area and ranges north through all states up the East Coast and deep into Canada. A sketch from the USDA website: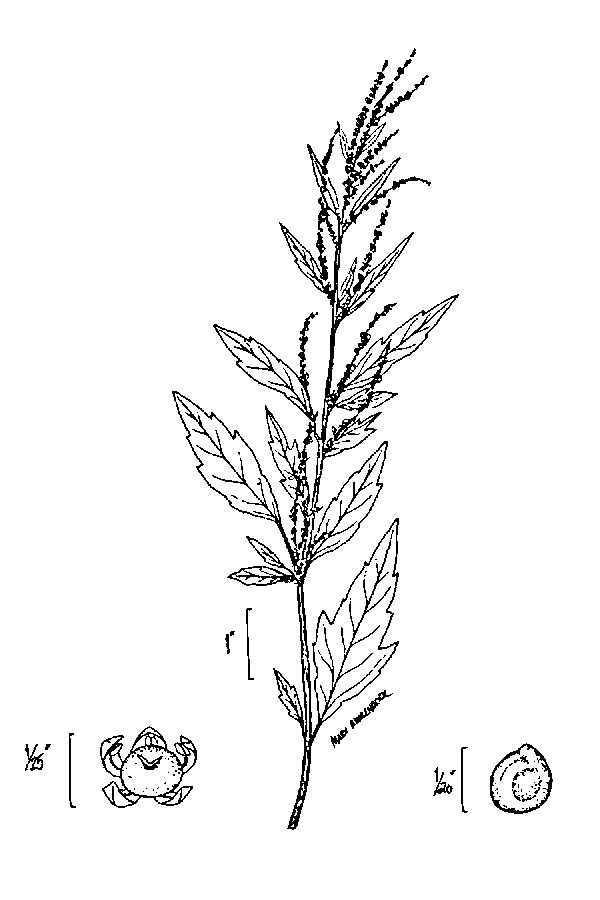 So, calling all Atlantic County, Burlington County, Ocean County, and Salem County explorers: can we go out and find this classy little skipper in places we haven't so far?
For a spreadsheet of all our log records by county up to 7-22-13, go here (& hit the + for easier viewing):
Keep exploring and reporting, everyone!
jc
*Update 7-26-13: Jim Springer has written in to note that the Burlington County record was by Frank Windfelder at Palmyra Cove on 8-5-09. Here's the beautiful photo Frank posted on his Flicker page: