Purple Hibiscus: A Feminist Reading
Chimamanda Ngozi Adichie's Purple Hibiscus has a subtle yet powerful feminist message. The book is the tale of a family in postcolonial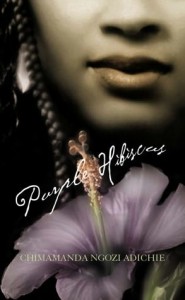 Nigeria told from the eyes of a young female, Kambili.  The head of the family is the domineering father, Eugene, a powerful business and religious zealot; he is abusive and controlling of his wife Beatrice and two children Kambili and Jaja. The story addresses some of the important issues postcolonial studies are concerned with, including violence against women, the silencing of victims, the domestic sphere and the multiple embodiments of postcolonial feminism.
The violent acts committed against the family by the father Eugene are representative of the patriarchal power. Eugene, the head of the household is oppressive and violent, forcing the family into a deep silence out of fear and deference; he takes away their voices and thus their power.
Yet, Beatrice takes forceful and courageous action to free herself and her children from the smothering dominance of her husband, making her also an example of stealthy feminine strength.  Utilizing her position within the domestic sphere and her control of food, Beatrice slowly poisons her husband in his meals and tea every night.
Beatrice and her sister-in-law, Aunty Ifeoma, work together in the novel to create a dynamic and complex representation of the postcolonial Nigerian woman. The women are essentially opposing models of postcolonial feminism. Beatrice is docile and traditional, yet finds the strength to quietly rebel against the power of her husband. Ifeoma is zealous, strong and vocal about her disapproval of the current gender relations in Nigeria.
These elements of the novel culminate into a powerful discussion on the postcolonial state as well as the struggles postcolonial citizens must face. The issues of postcolonial feminism are somewhat subtle, yet well developed in the novel, coming through in almost all of the characters.
This page is part of a larger project entitled "Domesticity and Kitchens" by student researcher Raina DeFonza. Please go back to the Table of Contents to further explore this project.
Leave a Reply
You must be logged in to post a comment.