Persepolis: A Postcolonial Feminist Reading
Marjane Satrapi's The Complete Persepolis is a coming-of-age graphic memoir that tells of the author's experiences growing up during and in the aftermath of the 1979 Islamic revolution in Iran. Originally published in two volumes in America (and in four volumes in France), the first half of Persepolis is a memoir of Marjane's girlhood, growing up under the new Islamic regime and during the Iran-Iraq war, while the second half presents her experiences in exile in Vienna at fourteen years old, her eventual return to Iran at nineteen, and her decision to leave Iran once again, this time for good, at twenty-four. Persepolis was also adapted into a 2007 film of the same name, written and directed by Satrapi along with Vincent Paronnaud; the film won a Jury Prize at the 2007 Cannes Film Festival and was nominated for an Academy Award for Best Animated Picture. Overall, the story of both the film and the comic traces the development of Marjane's identity against a complex political and cultural landscape in both Iran and in exile.
At home neither in Europe or the West in general nor in Iran, Marjane must forge a new, liminal identity out of her experiences. The contradictory forces of a nationalist political movement that is oppressive to women and political dissenters, and a Western culture that is hostile to foreign ethnic identities is a common condition for postcolonial women that is exhibited in Persepolis; however, Satrapi consciously and recurrently emphasizes the individual subject position of her narrator through the trope of embodiment and the body and thus resists the universalization of her experiences. Instead, Satrapi has publicly stated that she wrote Persepolis for a Western audience, and thus it can be read as an active postcolonial critique of Western representations of Iran and of people, particularly women, in Islamic countries in general.
Satrapi's representation of the veil, for instance, both agrees with the Western viewpoint of the veil being oppressive, and also undermines the usual Western representations of the passive, veiled woman who needs Western intervention to be rescued. Instead, Satrapi presents a complex representation of Iranian women actively resisting and subverting the veil on their own terms. The emphasis on the body in Persepolis similarly represents Marjane and other Iranian women as complex, embodied people whose experiences and voices are significant and cannot be reduced to a monolith. Unlike other Iranian-American memoirs, such as Azar Nafisi's Reading Lolita in Tehran, that reinforce Western cultural superiority and the promise of liberation through Westernization, Persepolis is critical of Western racism, and implicates that Western involvement and interference in Iran is a factor for current unrest.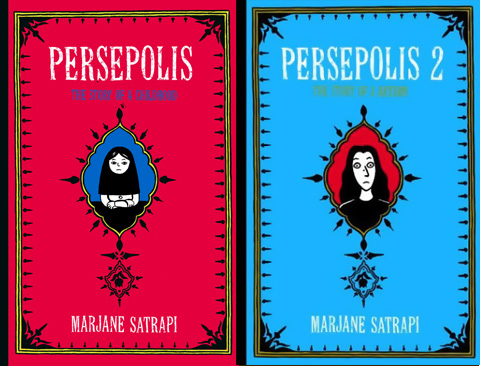 Satrapi amplifies her postcolonial critique through the use of the hybrid medium of comics. Although in France, comics, called bandes dessinées, are generally more respected than they are in America, the use of this traditionally "low" medium to deliver a complex political message suggests an embrace of the marginalized that resists the value systems of Western literature. Also, comic books, as hybrid combinations of text and images, challenge conventional delineations of categories and disciplines, reinforcing the complex representation of identities that cross the Western-imposed cultural and geographic boundaries found within Persepolis. Similarly, using a visual format allows Satrapi to counter and subvert the largely visual Western representations of women in Islamic countries in a direct way, by presenting familiar images of veiled women in unfamiliar contexts of protest and resistance.
Formally, comics themselves and the particular visual style of Persepolis reinforce Satrapi's political message as well. As Scott McCloud notes, the more iconic or abstract an image is, the more easily readers are able to identify with it. So while Persepolis presents characters that are, to a Western audience, largely "other," the simple, iconic images allow for readers to identify with Marjane and other Iranians, and thus view them as individuals and subjects that readers can relate to, rather than being viewed through the distance and reduction of representations that focus on otherness. Similarly, the foundational structural elements of the comic book form—sequential panels separated by "gutters"—invite greater reader interpolation and identification by forcing readers to construct a unified story in their minds over these "gaps."
Marjane Satrapi's Persepolis has achieved an established position as part of the emerging canon of graphic narrative, and it has garnered both critical acclaim and popular success. Some critics have cautioned that Persepolis' popular success may come at the expense of a full understanding of Satrapi's postcolonial critique; popular interpretations of the work may focus too much on a Western humanist reading that emphasizes the works' "universality" or focus too exclusively on the ways some aspects of it mesh with popular, mainstream Western views on Iran. In my examination of Persepolis I have tried to avoid this pitfall by focusing on aspects of the work that complicate, subvert, or critique Western representations of Iran and Islamic countries.
Leave a Reply
You must be logged in to post a comment.