Nyasha's Body as a Space for Resistance
"For only through the body, through the pulling of flesh, can the human soul be transformed" (Anzaldua 75).
"We are taught that the body is an ignorant animal; intelligence dwells only in the head. But the body is smart. It does not discern between external stimuli and stimuli from the imagination. It reacts equally viscerally to events from the imagination as it does to "real" events" (Anzaldua 37-8).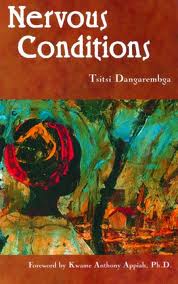 Tsitsi Dangarembga outlines the thematic course of Nervous Conditions in the opening lines by declaring that the story above all is about "Nyasha's rebellion [which] may not in the end have been successful" (1).
Dangarembga's deuteragonist character Nyasha, "far-minded and isolated" fails to cope with the double colonization that she as a female in colonial Rhodesia is imposed to.  As Rosemary Moyana puts it, there are "women who refuse to be compartmentalized into their chiseled roles. They question, struggle, and become liberated in different ways" (qtd in Ahmad 53). If Lucia resorts to her body "to manipulate the male ego in order to secure sexual and financial fulfillment," then Nyasha is speaking out her nervous conditions through her body (Williams 279).   The weight of dominant patriarchal world in conjunction with alienation caused by Western form of life and education leads to Nyasha's crisis of identity. In fact, as Ahmad notes, this female character becomes a personification of the crisis of identity that Zimbabwean women as a whole had to undergo.  Williams similarly suggests that "the invaded colonized woman suffers at the level of her racial and sexual body. She is doubly colonized, by the system of colonialism and, more often than not, indigenous patriarchy" (274). According to Williams, "Nyasha's inability to communicate verbally with others gives rise to her body as a dialectic space" (278).  She comes to realization that her cultural hybridity is offensive to her parents: "Now they are stuck with hybrids for children <…>," Nyasha proclaims, "But it offends them – I offend them" (Dangarembga 78).  This statement serves as a proof that Nyasha as a Zimbabwean girl doesn't fit in the tight frames and strict definitions of a good native and a diligent female.
Leave a Reply
You must be logged in to post a comment.