The Stockton Postcolonial Studies Project Home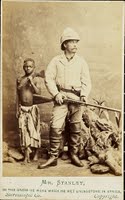 This is the home page of the Stockton Postcolonial Studies Project, an ongoing digital research project that explores different theoretical arenas within postcolonial studies. "Postcolonial Studies" encapsulates a series of theories and methodologies that have impacted disciplines as diverse as history, literature, anthropology, sociology and political economics. Its roots stem from an intellectual imperative to radically reinterpret the histories, cultures and representation of formerly colonized peoples, a call pioneered in the 1980s by critics such as Edward Said, V.Y. Mudimbe, and members of the Subaltern Studies group.
The Project is an effort to document recent trends in the history of postcolonial studies across a variety of fields and disciplines. From July 2011, the Project will be indexed in the Modern Language Association's database of scholarly websites.
To learn more about our work, please visit the Project Guide. You can follow our discussion of current projects on Twitter through our Twitter account @RSCpostcolonial, and by using the hashtag #stocktonpostcolonial. If you would like to contribute to this project please email the Project Director (Adeline Koh, Ph.D.) with your proposal.

The Stockton Postcolonial Studies Project by The Stockton Postcolonial Studies Project is licensed under a Creative Commons Attribution-ShareAlike 3.0 Unported License.
Based on a work at wp.stockton.edu/postcolonialstudies.
Permissions beyond the scope of this license may be available at wp.stockton.edu/postcolonialstudies.
Image taken from the Smithsonian Institute Flickr Photostream.